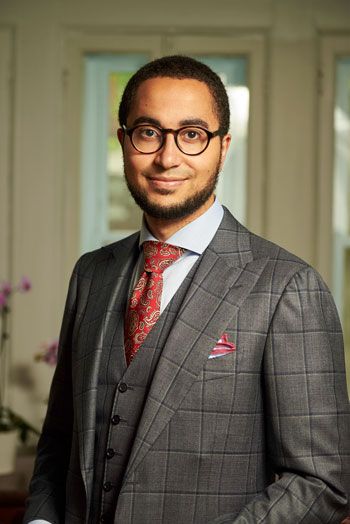 You can fully trust Dr. Cadet to help your natural beauty shine. After all, you are a sight of beauty! ™
Dr. Nicolas Cadet is the first ophthalmologist of African descent who is subspecialized in oculoplastic surgery in Canada. In addition to his work at PreciVision clinic, he practices ophthalmology and oculoplastic surgery at the Verdun Hospital.
Dr. Cadet obtained his medical degree from McGill University and completed his residency in ophthalmology at the University of Montreal. He then completed a fellowship in aesthetic and reconstructive oculofacial plastic surgery as well as orbital and lacrimal surgery at McMaster University in the Greater Toronto area with Dr. Yasser Khan.
Dr. Cadet is attentive, reassuring, meticulous, and innovative. He adopts a refreshing and holistic approach when he creates an individualized treatment plan for you. Dr. Cadet takes the time to listen to you to better understand your desires and your objectives. When Dr. Cadet rejuvenates your eyelids and your face, he is treating all of you and he values your uniqueness. You can fully trust Dr. Cadet to help your natural beauty shine. After all, you are a sight of beauty! ™
Dr. Cadet has been awarded over 20 scholarships and prizes for his academic achievements and community involvement. He has published many articles in peer-reviewed journals and presents regularly at national and international conferences. Since 2014, Dr. Cadet organizes a free annual glaucoma and ocular health screening in Montreal-North. Furthermore, he has organized and participated in numerous oculoplastic and ophthalmological surgery missions to provide care for underserved populations on 3 continents.
Dr. Cadet is of Canadian-Haitian origin and endeavors to make aesthetic medicine and surgery more inclusive and diverse. He speaks French, English, Haitian Creole, as well as some conversational Spanish and basic Mandarin Chinese.
He specializes in the evaluation and performance of oculoplastic surgeries, including:
Cosmetic procedures, such as: blepharoplasty, botox, fillers, etc.
Pathologies of the eyelids, such as: ptosis, ectropion, entropion, retraction of the eyelids, benign and malignant lesions of the eyelids and eyebrow lift;
Lacrimal pathologies, such as: watery eyes, endonasal DCR, external DCR and Jones tubes;
Orbital pathologies and varia, such as: proptosis, Graves disease and other orbital inflammations, painful bulb phthisis, orbital decompressions, removal of orbital tumors, evisceration / enucleation, etc.